From

Beginner

to

Pro Pinner:

The Ultimate Guide to Mastering Pinterest
Have you seen those screenshots of people getting hundreds of views each day by Pinterest?

Yet, when you try to use it, your impressions are low?

Traffic isn't coming, and you're ready to give up?

How amazing would it be to have constant traffic through to your website?

People ready to read what you've got to say and buy your products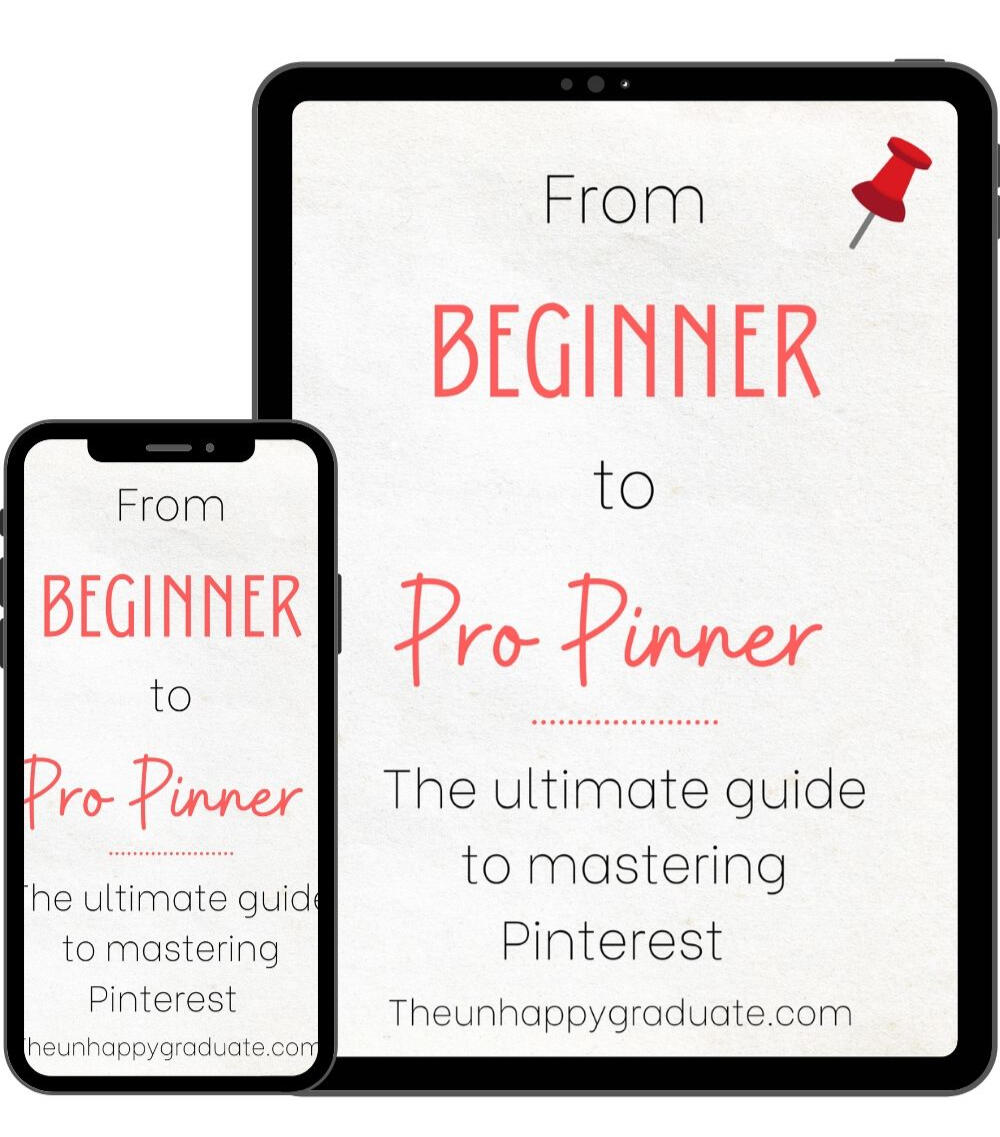 With Pinterest, that's not a dream.
It's reality
Let me show you how to harness the most powerful tool in your journey to growth.
At just £5.00, this is the most affordable guide around and will bring you results.
Pinterest is not a social media, it's a search engine. That fact alone makes it the best way for you to reach people who want to find your website.
With Pinterest, you can learn to diversify your streams of income, reach more readers than ever before and sell your products.
So, let's get started...
How can this guide help you?
In Beginner to Pro Pinner, you receive all the information you need to explode your traffic.
Learn how to reach more customers, drive new sales and find leads who will want to follow your content, for life.
What's inside From Beginner to Pro Pinner?
Pinterest Basics
✔️ Information on what Pinterest is and how you can maximise its impact
✔️ A complete guide to understanding all Pinterest statistics
✔️ A clear guide to help you set up your Pinterest for maximum success
✔️ Information on rich pins and how to enable them
Creating Pins
✔️ Learn how to search for the best keywords in your niche
✔️ A complete guide to creating eye-catching and Pinnable content for your boards
✔️How to write an attractive Pinterest title
✔️How to write an absorbing description for every pin
Useful Extras
✔️Information on Ads and whether they're worth your money
✔️The do's and don'ts of Pinterest
✔️A checklist for creating your pins
✔️ A Pin tracker to make sure that you're consistently producing new content
To set you off on your BEST way forwards with Pinterest, I've also included 7 Pinterest templates to keep your pins fresh and unique.
Who This Guide Will Help
✔️ People who want to invest in their website
✔️ People who understand that work will bring results
✔️ People who are willing to put in consistent effort in order to see results
✔️ People who know the importance of investing in their website, but who don't have hundreds of pounds to spare
People who shouldn't buy this guide
❌ People who expect results without putting in effort
❌ People who don't want to see their blog traffic explode
❌ People who are impatient and expect a magical cure for everything
❌ People who are not willing to put in work regularly to reach their success
I understand that you want to see the results people have from my guide.
If you're going to trust me, it's important to see that the time and effort you'll put into Pinterest won't go to waste.

I've got some proof of the impact that my guide has, from people who've taken the time to implement my strategies and grow their traffic.
My First Customer
My first customer was stuck in a wrongful suspension on Pinterest, and had all but given up on it.

I convinced her to try it out one more time, and use the strategies outlined in my guide.

Once her account was unlocked, her growth was ridiculous, exploding and bringing her immediate blog traffic.

Every day she sends me an update on her Pinterest, and she has gone from hating it to loving the traffic it brings.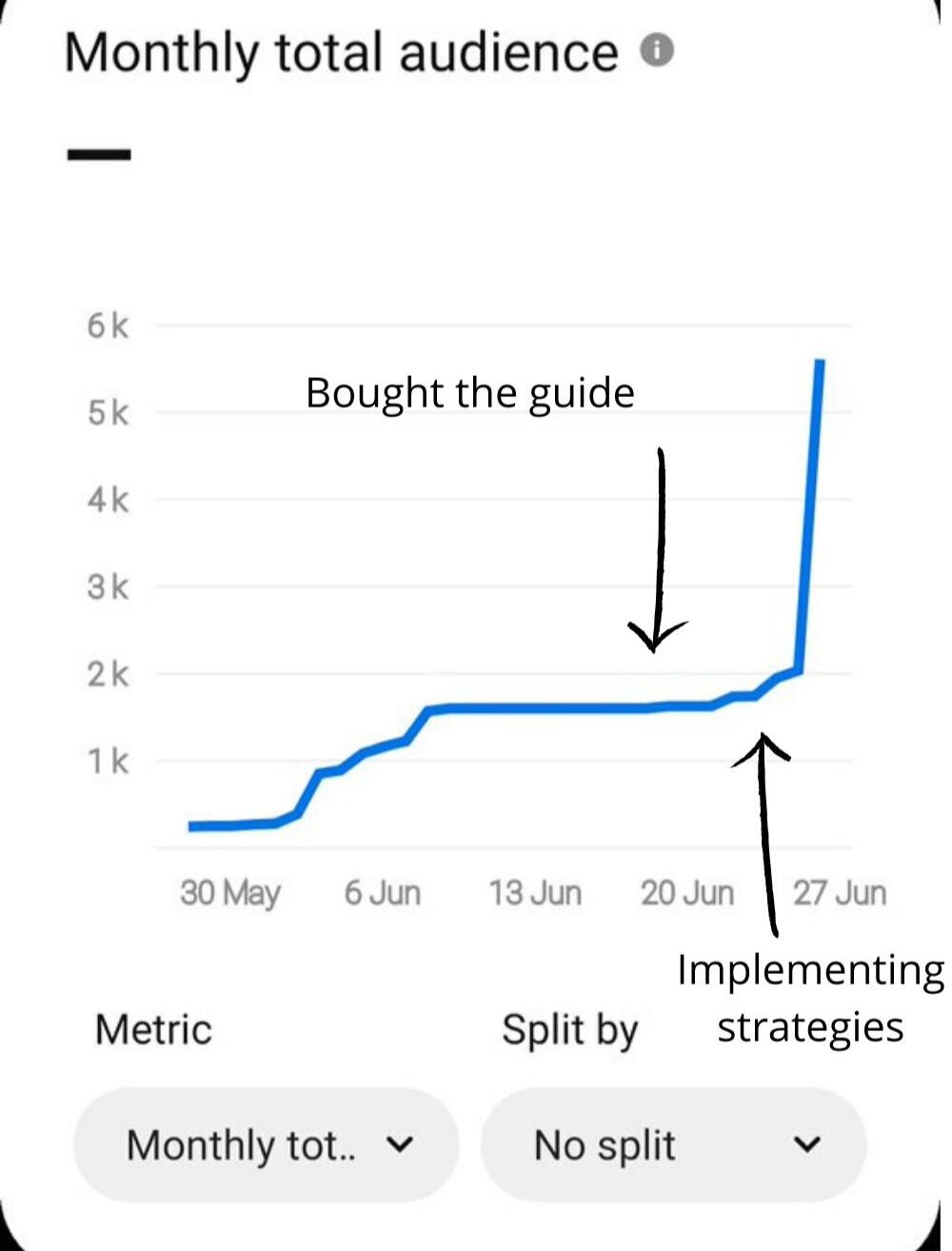 This guide has saved my blog!
I was on the verge of giving up on Pinterest. My traffic was low and I was sure that it wouldn't work for my niche.
But, after using this guide and following the tips inside, I'm starting to see traffic come in from Pinterest.
This guide has changed the game for me when it comes to Pinterest, and I couldn't be happier.
The All Round Investor
Thank you!
Hello!! Just wanted to say since starting your Pinterest course (this is day 2) my account has gone from 169 monthly viewers to 23.9k monthly viewers! Thank you for all your tips; worked wonders and hopefully will continue to do so 😍 x
Paige Eades
Will I have access to future updates?
Yes! At no extra cost, you will be sent the updates to my guide as I make changes. I try to keep this as up-to-date as possible and you're guaranteed to get your future copies!
Will I see results quickly?
I can't guarantee that your results will come quickly.
What I can say is that Pinterest takes time and effort.
By putting in effort, your Pinterest will grow, but everybody's arc is a different shape.
Get Your Copy!
Take your Pinterest strategy to the next level and get your guide today!
Just £5.00!
If you have any questions before buying my guide then please contact me at [email protected] and I'll be happy to answer any questions.

You can also contact me on Twitter @UnhappyGraduate